Profile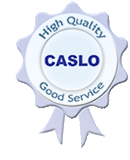 CASLO ApS was founded in 2005 and the company focus on a range of services within peptide chemistry.
Products are delivered for research to universities, research institutions and pharmaceutical companies.
Peptides from CASLO has been used in more than 600 scientific projects published in international scientific articles and numerous of other projects.
CASLO has grown significantly and has now regular customers in more than ten countries. CASLO has been awarded as a Gazelle Company by the Danish business magazine Borsen for being a high growth rate company.
CASLO has a close collaboration with a range of specialized laboratories and can therefore offer a very large range of services at low prices. Even though CASLO strives to offer very competitive prices, quality and good service is always the first priority. Products are delivered with money back guarantee and extensive QC documentation.
CASLO can assist in solving scientific issues before peptide sequences or modifications are chosen. CASLO offers to sign a confidentiality agreement before receiving peptide sequences.
CASLO ApS
c/o Technical University of Denmark
DTU-Science Park, Diplomvej 381
DK-2800 Kongens Lyngby
Denmark
Tel: +45- 70 23 28 60
Fax: +45- 70 23 29 90
e-mail: info@caslo.com