Profile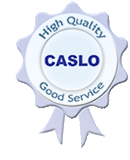 CASLO ApS was founded in 2005, and we offer customer specified synthetic peptides, and modified peptides, as well as other peptide services, in high quality.
CASLO has since the start in 2005 grown significantly, and we have now regular customers in more than ten countries. CASLO has been awarded as a Gazelle Company by the Danish business magazine Borsen for being a high growth rate company.
Products are delivered for research to academic customers and biopharmaceutical companies.
Peptides from CASLO has been used in more than 500 projects published in international scientific articles and numerous of other projects. Please contact CASLO if you need a reference list.
Even though we strive to offer very competitive prices, quality is always the first priority, and will never be compromised. Products are delivered with money back guarantee, and together with high standard extensive QC documentation.
CASLO has a close collaboration with a range of specialized laboratories, and we can therefore offer a large range of different services.
At CASLO we are a dedicated team, and we will do our very best to give you a professional and good service.
We can assist in solving practical or scientific issues before peptide sequences or modifications are chosen.
We offer to sign a confidentiality agreement before receiving peptide sequences
Please go to the menu "Contact" where you can find all the details for how to contact CASLO.